Newsletter May 2022.
Newsletter May 2022.
At the beginning of May, 2 deaf past pupils (Dinuka and Yamuni) from our school got married. We were invited with a few staff members for this special day, which was celebrated in a Beach Hotel. The tables we sat at, caught the eye, because only sign language was used. Several deaf former students were invited who had not seen each other for a long time. It was like a reunion!
Wedding of 2 past pupils Dinuka and Yamuni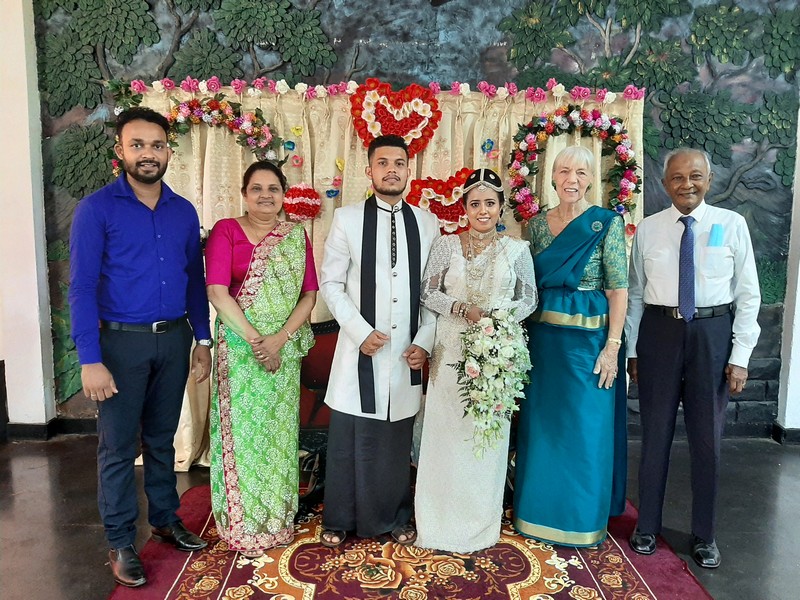 On May 6, a state of emergency was declared in Sri Lanka due to all the demonstrations and the uprising against the government due to the lack of all basic necessities, the high prices and the long power cuts from 6 to 13 hours a day. For the first time, water cannons and teargas were used by the police. That helped temporarily, but the riots got worse over the next few days. The Dutch Ambassador was supposed to visit our Deaf School on 11 May, but curfew was imposed from 10 May because the whole country had fallen into a state of anarchy. In the evening on May 9, a total of 136 houses (45 of ministers), hotels, town halls, ministers' cars, police jeeps, buses and fire engines were set on fire across the country. It was a planned action that could not be brought under control immediately. 9 people were killed that evening, including 1 minister. All the parents of our deaf children called on May 12, when the curfew was lifted for several hours, that they would like to have their child at home, for fear of further escalation. With difficulty we managed that on that day all children (and staff members) got into a few buses that were still running and others we were putting in to tuk tuks. Many roads were blocked by protesters. That day, a new prime minister was appointed, Ranil Wickremasinghe, after Mahinda Rajapakse resigned.
Protest about the high cost of living
Busses in Sri Lanka
Anarchie, busses are putting ablaze
Protests in Sri lanka
Putting police car and bus on fire
Tuk tuks in Sri lanka
After setting a new date, the Dutch Ambassador H.E.Mrs.Tanja Gonggrijp (she is the Patron of our School) came to visit our School for the Deaf on 23 May. It was a beautiful morning with many activities, such as lighting the oil lamp, the opening of both the Smart Room and the new computer room, both Dutch Projects of the Sophie Rosenthal Vereeniging from Amsterdam.
Visit of H.E. the Dutch Ambassador on 23-05-2022
The O-Level (MAVO) exam for 4 of our deaf students also started on May 23, which lasted until May 31. The night before we had already gone to the temple together with all students and staff members for a good exam result.
To the Tempel on 22-05-2022 
On June 1, the 4 students say goodbye in a farewell, to which their parents are also invited. We have some surprises for them, in which all students participate.