Newsletter February 2020.
Newsletter February 2020.
On the first day of the month we took all the deaf pupils to the Cinema to see the Sri Lankan film: "Tsunami". It is a real story and the children were little emotional. Ine Lems from the Netherlands also joined and she paid for the tickets
.
The next day Ine Lems left. She had collected last year a lot of donations for the School from family and friends, so that she could buy school materials, furniture for the youngest group, a dryer etc. For the 2 new small brothers who came recently to school, she bought all the clothes and shoes, uniforms etc. what they needed. Their mother is alone and very poor, as the father left this family and mother has no job.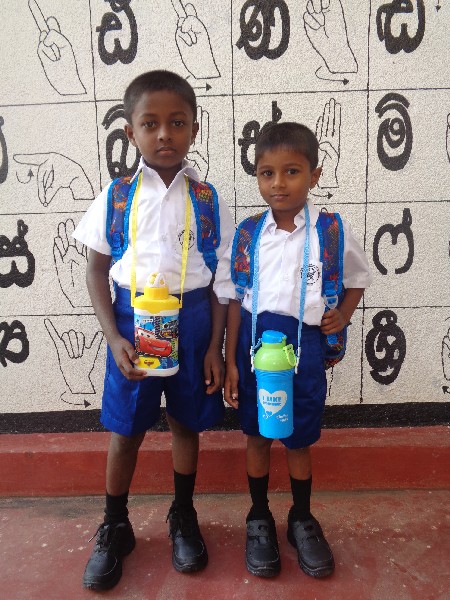 Simon Nieuwenhuyzen from The Netherlands comes every year to Sri Lanka and brings a visit to our Deaf School as well. Every time he has a big surprise for the children. This year he brought a beautiful train with landscape . He was installing it with the eldest boys. When it was ready all the pupils and staff members came to see it. They enjoyed it very much!
February 12th was the second death anniversary of the first Chairman of the Dutch Foundation: Mrs. Barbel Kattenbelt. To remember her we were hanging a photo of her from her last visit to Sri Lanka in the School Hall. The children got a special lunch (Dana) in her name. In the afternoon we visited the Temple where we had a special pirith ceremony for her.
The annual "Hopper Evening" was on February 26th. A good Sri Lankan friend, who lives already 30 years in the USA, enjoys it very much to give the deaf children a nice meal when he comes to Sri Lanka. Hoppers are small pancakes with or without an egg in the middle and it is served with some curries. As dessert they got a yoghurt.
The new Government has new programs for the handicapped. For handicapped persons from 18 and above they have different vocational training courses free of charge. After that they get a job. This month we got already 2 of our past pupils from remote areas, who visited the school with forms to be filled by the school where they got educated. They brought their deaf wife and also their child ( could hear well) and the rest of the family members! That was a happy reunion!