Newsletter February, 2023.
Newsletter February, 2023.
After 3 years, our loyal Dutch sponsors, who visited us annually in the past, finally returned. They were Mrs. Ine Lems and Mr. Simon Nieuwenhuyzen. Everyone was very happy to see them again after a long time.
Links Simon Nieuwenhuyzen die de trein doneerde voor de kinderen.
On February 2, we celebrated the 39th anniversary of our Deaf School. We all went to the temple to offer lunch to 5 monks.
Aanbieding van de lunch op 2 febr. aan de monniken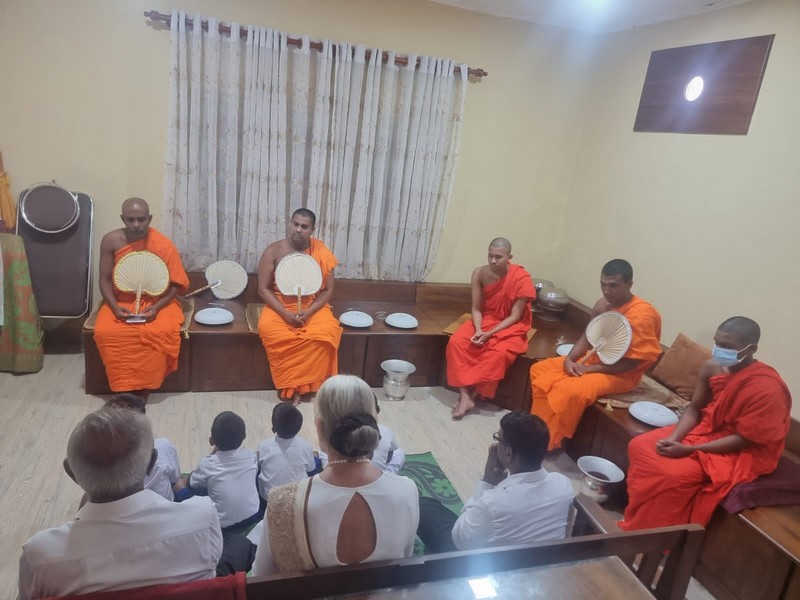 On February 6, the neighbour of our Deaf School, suddenly passed away (42 years old). He was a software engineer and he helped us with programs for our deaf children. We went to his house with all the students and staff members to offer our condolences to the family.
On February 9, Mrs. Ine Lems treated us to a school trip to the Air Force Museum in Ratmalana. It was a day full of surprises and fun. The children could sit in various real airplanes. There was a huge playground. The planes with slides were for all the students the most favourite!
Schoolreis naar het Air Force Museum in Ratmalana
Mudithe (our Director) left for the Netherlands on February 12 with a group of deaf students. He met board members of the Foundation and other important donors of our Deaf School.
On February 17, 2 ladies from Belgium came to visit us (Elisabeth and Christ) to bring a framed photo of Drs. Rene Fabert, a deaf person who died of corona 2 years ago at the age of 69. In his last will he left a generous amount for our Deaf School. Drs. Rene Fabert has meant a lot to the deaf in NL and he has also written books about being deaf. Tineke de Silva met him years ago in the Netherlands, hence the contact.
Aanbieding van de foto van Drs. Rene Fabert
The Provincial Elections in Sri Lanka, which were to be held on March 9, have been cancelled due to lack of money from the government.
The power cuts are now temporarily a thing of the past, but electricity prices have risen again this month by 66%! Last year in June the increase was already 100%.
Vrij spelen in het auditorium
Van zaadje naar plant
Schrijfles op het smart board
Bij de school kapper!