Newsletter June 2022.
Newsletter June 2022.
On June 1, we said goodbye to the 4 students who had taken their O-Level (HAVO) exam. Their parents were also present. We had made a presentation to put all 4 students in the spotlight with a story and nice photos. Two parents gave a speech, including Sithmi's father, who did this in sign language, because he is also deaf. Nethmi's parents treated everyone to lunch at the end of the school day. They brought a few curries from home and the rest were prepared in our kitchen. For dessert there was delicious curd. (a type of yoghurt/curd)
Afscheid van de examenkandidaten. Hun ouders waren ook aanwezig
Examenkandidaten met staff
Afscheid van hun teacher
Sithmi's vader gaf een speech in gebarentaal
Every Friday morning the staff and children work for a few hours in our vegetable garden to grow some more vegetables of their own, as all prices have gone up enormously.
It was Miss Nadeesha's birthday on June 5 and her parents had prepared lunch at home for everyone in school, which they brought in a tuk tuk.
The Buddhist festival of Poson was celebrated again and our students went home for a few days. However, transport was a major problem due to a lack of diesel and petrol, so early morning travel was made to ensure a bus.
Prithee, our matron wanted to retire due to her age. That's why Apsara, our new young matron came to be trained by Prithee.
We now cook outside in the school garden on wood due to a lack of gas (it is simply not for sale) and electric cooking is not possible during the powercuts.
Koken op houtvuur
Our accountant came to school by bike (08 km) for the first time, because he had an empty car tank. He had brought clean clothes with him to fix up first because his clothes were soaked when he arrived! It's 32 degrees C here.
From June 20, most schools in Sri Lanka were closed due to lack of transport (still no diesel and petrol). We have the children internally, so no problem with transport. All staff members are now temporarily internal except for 2.
This month the mother and sister of 2 of the staff members left for the Middle East to work. Every day long lines are waiting for a passport in front of the passport office in Colombo. Everyone, young and old, is trying to go abroad to escape the difficult situation in Sri Lanka.
We celebrated the farewell of Prithee (matron) on June 30. She has worked in our school for 3 years. We had made a power point with nice pictures of her and all students had made a beautiful card.
Afscheid van Prithee (Matron)
Afscheid van Prithee (Matron)
Luisteren naar de klanken en vibratie van de piano
Les op de smart board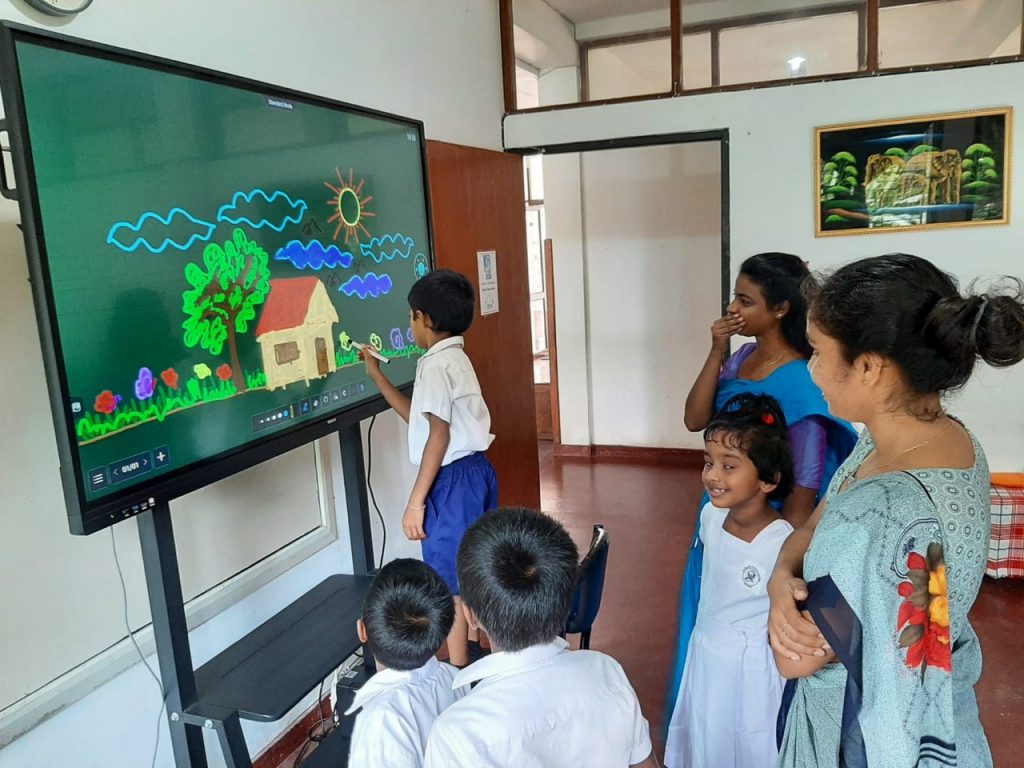 De jongste groep bezig met de laptop .
Jackfruit uit eigen tuin schoonmaken