Newsletter November and December 2021 with Christmas greetings.
Newsletter November and December 2021 with Christmas greetings.
In the month of November we worked hard in our Deaf School. We noticed from the students that they really enjoyed being back in full action. Except for the dance lessons, all other lessons went on as usual. Luckily none of the kids talked about going home on the weekends. This was not possible due to "the corona bubble" we were in. We did do pleasant things in the weekend, such as cooking together with teacher Mala. The older ones made extra curries for lunch, vanilla and chocolate pudding, a cake and the younger ones started baking cookies and making a cordial drink. On Saturday and Sunday evenings they were allowed to watch children's films on the big screen via the beamer with a bag of popcorn.
November brought heavy monsoon rains causing flooding and landslides in many districts. The main vegetable crops from Nuwara Eliya and the surrounding area were destroyed by the flooding. As a result, all prices were doubled.
There was also a shortage of petrol, diesel, butane gas, milk powder, cement and other products. For our daily meals it was a big problem to put something on the table without gas! Fortunately, we have a large electric rice cooker in which all kinds of beans can be cooked. Via the back door we eventually got a gas cylinder (although extra expensive). The problem is still there and we hope it will be solved soon; otherwise we will have to cook on a wood fire outside in the school garden.
In mid-November, the extra booster shot (Pfizer) was started for people aged 60+. Susiri and Tineke De Silva immediately went for this vaccination. Due to the strict measures against corona, we had an average of only 700 infections per day from the end of November.
On December 7, we said goodbye to Miss Ruvini. She was a teacher in our Deaf School for over 30 years. So many tears were shed at this event. She received a new smart phone from the School and the Foundation together, which she was very happy with.
Farewell Ruvini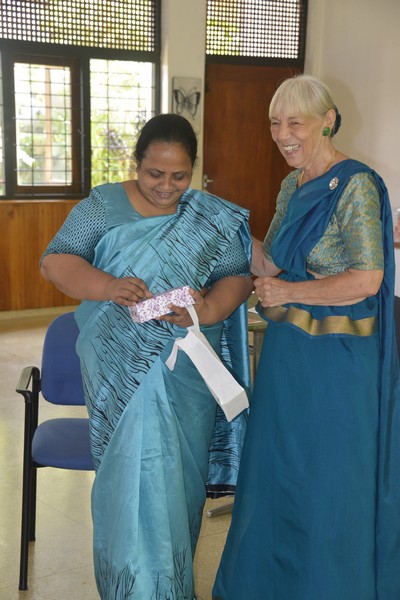 On the last day of school before the holidays, we had a "pizza night" for all the children, sponsored by a friend of Mudithe De Silva. For all deaf children it was their first introduction to a pizza, so very special. How much they enjoyed it!
Heerlijke pizza's
Sponsors for the pizza's
We would like to thank all sponsors and friends of the Dr. Reijntjes School for the Deaf very much for their interest and compassion for the deaf pupils of the School. We are also grateful for all the donations that came in this past year. Without this financial help we would not be able to run this Deaf School.
Finally, Susiri, Mudithe and Tineke De Silva with all staff members and deaf students wish everyone a Merry Christmas and a very Prosperous New Year!
Distributie van Uniform materiaal en danskleding
Christmas Art
Koekjes bakken
Cookery class
Luisteroefeningen in de haptic chair
Meditation
Sewing class
Art Class
Science Lab
Gift for the parents