Newsletter October 2022.
Newsletter October 2022.
The International Children's Day of October 1 fell on a weekend this year, so that on September 30, we celebrated it already.
We were able to pay a lot of attention to the International Animal Day on October 4, because of the visit to the zoo last September was still fresh in our mind. On our smart board we watched beautiful nature films about animals in the wilderness. There are also beautiful films about the leopards and monkeys in Sri Lanka.
On October 5, we were able to enjoy a hopper party in the evening. Hoppers are a kind of small pancakes that are baked in special round pans. A sponsor of our school brought a couple with all the attributes to bake the hoppers on site. Special (hot) curries are served with it. They also fry a fried egg in the hopper on request.
Hoppers bakken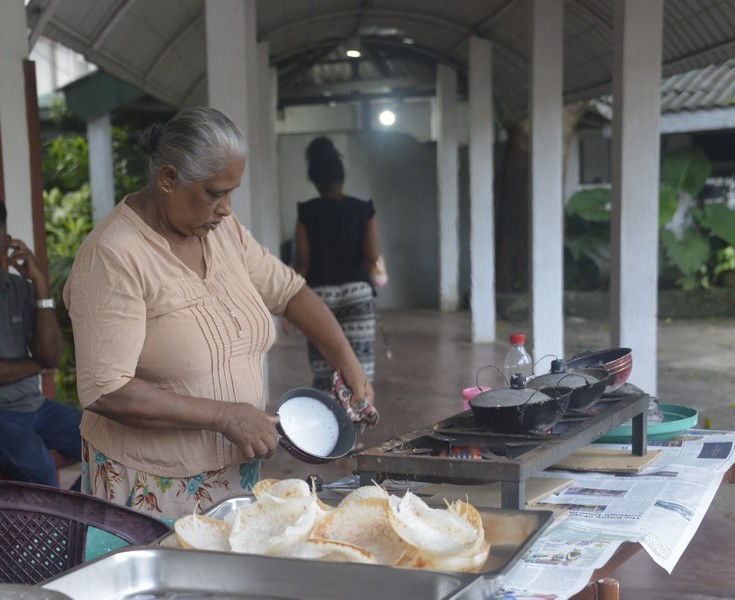 On October 10, teacher Latha, who retired about 6 years ago, came to visit our school. She lives far away, 6 hours travel by bus. She was very happy to see everyone again, although she didn't know all the new children and teachers. She has a chronic lung condition so she is often very ill and has to be hospitalized.
Latha op bezoek in school
In the sewing class the big girls have made very nice baby clothes. During the Parents' Day in December we will hold an exhibition of all the creativity of our students.
Teacher Mala's mother passed away a year ago on October 17. It is then customary for the family to offer a "Dana" lunch to charity. This year it was our Deaf School.
Herdenking Mala's moeder
On October 28 and 29 we held a big Poya in our school garden for the well-being of the deaf children and staff and for a better future for Sri Lanka. The Buddhists in Sri Lanka do such a Poya when people need help. This Poya lasts a day and a night. The deaf children and staff members also took part.
Poya voor het welzijn van iedereen in school en voor Sri Lanka's toekomst
This month we again celebrated a few children's birthdays and also held a party for Rashmi, because she had become a "big girl".
For the first time in the history of our School, a pupil (Ranuga, almost 4 years old) is taken to school every day on his mother's bicycle. They live 2 km from our school. In this case, the parents, grandparents and other relatives are all (genes) deaf.
Moeder brengt Ranuga op de fiets naar school
October was the month of monsoon rains. Sometimes it rained continuously for 3 days in a row. There were again many floods and landslides. We didn't get the laundry dry for a few days, so the students were allowed to appear in the classroom in their normal clothes instead of in their white school uniform.
Met vergrootglas bloemen bekijken
Star fruits oogst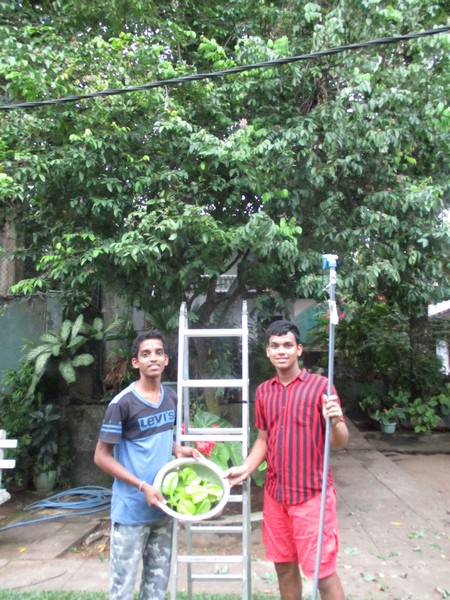 Jamath's verjaardag
In the school garden
Groenten van de markt
Haren knippen